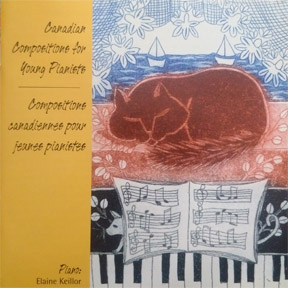 Canadian Compositions for Young Pianists, 4 CDs, Studea Musica (2000).
"As a Canadian music aficionado who likes to skirt the edge of 'listed' repertoire, I have often sighed that more teachers would explore the Canadian soundscape if there were recordings available. And this collection is one stop shopping. With 65 composers represented by over 230 works, this is not only a one-of-a-kind compilation, but also a major historical document of Canadian piano music. Artistically performed by Dr. Elaine Keillor, the interpretations are vital, rhythmic, and the quality of the recording [recorded at Tabaret Hall, University of Ottawa] superb … [H]er performances are never 'academic.' The introductory comments are concise and chronicle the eclectic individual elements used in contemporary works. Her language is musicianly and precise; there is no dumbing down of concepts or theoretical terms.
This collection is also handsomely indexed, the composers are presented in alphabetical order and loosely divided between 'beginner' and 'intermediate' levels of difficulty.  The compositional elements of each piece are also catalogued – in terms of rhythm, harmony, forms, style and texture. … [T]he choice of repertoire here  is regionally comprehensive, a faithful sampling of what many consider the classics of post-1950 Canadiana." Tara Wohlberg in The Canadian Music Teacher (2001).