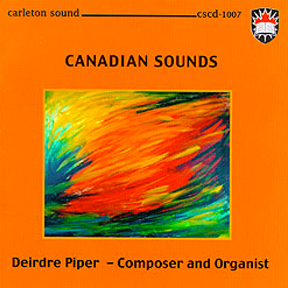 Canadian Sounds, piano collaborator in works by Deirdre Piper, Carleton Sound CD-1007 (2001).
Until the publication of volumes 4 and 19 in the CMH Society series, Canadian organ music prior to the Second World War remained in some obscurity. That which had been published has long been out of print, and much has never been published. The music of Healey Willan is one of the few fortunate exceptions. By and large an enormous corpus of Canadian organ music remains unknown, unexplored, and unplayed. Most scholarly histories of Canadian music pay scant attention to this hitherto rather inaccessible repertoire, and our picture of Canadian musical life during this period has therefore been seriously incomplete.
Organ building and playing by Canadians have a long history. We know that Quebec City had an organ in use as early as 1661 – possibly earlier.