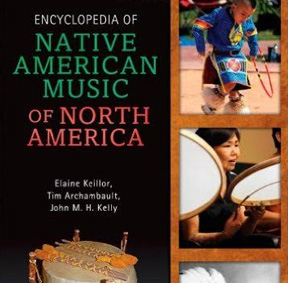 Encyclopedia of Native American Music of North America, (Assisted with advice from Timothy Archambault and Dr. John Medicine Horse Kelly), Santa Barbara, California: Greenwood Press ABC-CLIO, 2013.
"This encyclopedia will be useful for budding ethnomusicologists and for libraries supporting undergraduate programs in music or Native American studies. Summing Up: Recommended." – Choice
"This work is recommended for all public and academic libraries that focus on music or Native Americans." – ARBA
"This is a thorough and informative presentation of the traditional and contemporary music of Native Americans, filled with well researched entries. As a fan of indigenous music, I spent some time with the book and then shared it with others." Gary Robinson of Cherokee and Choctaw heritages.