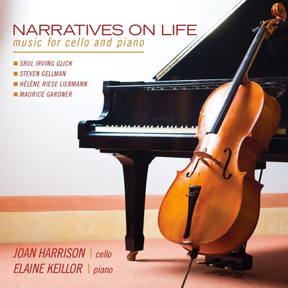 Narratives of Life – Srul Irving Glick, Steven Gellman, Hélène Riese Liebmann, Maurice Gardner.. With Joan Harrison, cello. Marquis 81467, 2015.
Narratives on Life – music for cello and piano is the latest CD from the Ottawa duo of cellist Joan Harrison and pianist Elaine Keillor (Marquis MAR 81467). The four varied works are connected by the composers' shared Jewish heritage and are not often heard – indeed, three of the performances here are world premiere recordings. …[Gardner's Sonata is] not only the strongest and most assured work on the CD, but also draws the most committed and convincing playing from the performers.
It's a fine ending to a very interesting CD.
Terry Robbins in The Whole Note (2016)
"Cellist Joan Harrison and pianist Elaine Keillor perform with taste and fine attention to phrasing and structure. The sound is pleasing with clear textures and a good balance throughout. The other works on the CD are world premiere recordings of three twentieth-century compositions by Srul Irving Glick, Steven Gellman, and Maurice Gardner." Lucy Mauro in theIAWM Journal (2016)